In America, there're over 488,187 childcare experts. However, choosing quality child care services is among the most difficult and time-consuming tasks that a parent must undertake.
Whether you hire a nanny, a long day care center, in-home care, a preschool, family day-care, au pair, or a nanny share arrangement, the most important thing is that your child receives quality, professional child care that is tailored to you and your kid's needs.
You would like to ensure that your kids are safe and happy in a fun, educational, and nurturing childcare environment.
Here are tips on how to choose quality care for your child.
Research
Get referrals from your paediatrician and other parents. If you don't know other parents consider asking those you come across in the playground, paediatrician waiting room, or a mommy-and-me class.
Before you trust their referrals, carry out a background check on the recommended child care services. Visit their websites and go through the online reviews.
You can also use other online resources to learn more about your potential child care center. Your goal should be to deal with the experts known for the best reasons.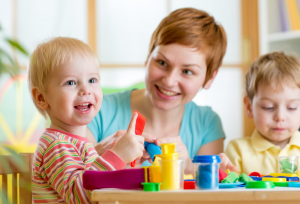 Interview
Before you select the child care specialists, screen them. Ask them about the number of children they care for at once. Ask about their children's care philosophy, health safety measures, and how they handle sick kids.
Make sure you're at ease with the caregiver's policies on discipline, feeding, soothing, and education. Ensure that all caregivers have a complete medical check-up before taking care of the young ones.
Visit the Center
Before you choose a child care center, consider stopping by unexpectedly to get a genuine image of the day-care center when the staff isn't prepared for your visit.
If the center doesn't encourage unscheduled visits, cross it off your list.
Once you have a list of potential choices, visit the center to see if it checks all the basics. Look around at the resources available. Confirm the number of professionals on standby to assist the children and confirm if there are safety measures put in place.
Accreditation
A state license may not guarantee that your baby will get lots of attention from a loving and qualified caregiver. It assures you that the provider has met safety standards set by the government.
On top of this, the center needs to be accredited by the National Association for the Education of Young Children.
If they have this certification, they have a philosophy that promotes kids' safety, health, and development in care. You can visit https://www.happybunnies.co.uk/ to choose the best child care services.
Qualifications and Experience
Your potential caregiver should have skills in first aid and CPR. The center director needs to have a degree in early childhood education, while the teachers need to have skills in early childhood development.
You also need to confirm that the caregivers have experience with your baby's age.
Hire Quality Child Care Services Today
Selecting quality child care services is one of the most challenging yet important decisions you'll have to make as a parent. There are several advantages of taking your child to daycare. Even so, you must choose the right one to enjoy them.
Did you find this article helpful? If so, consider visiting our website to read other informative blogs.