I will admit I was more than a little excited to see an article I had penned in print! When I started out on this blogging journey I set myself a number of goals, as I do with most things I take on in life and getting an article printed was one of them.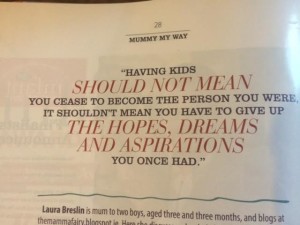 The article features in the Maternity & Infant magazine, "Mummy My Way" section. Maternity & Infant is one of Ireland's leading pregnancy and parenting magazines and is available bi monthly.
In the article I discuss being a working mum, I suppose when I began writing the article what I really wanted to convey was that I still have the same career hopes, dreams and ambitions as I did before having kids and I know I can still achieve them. Being a working mother has plenty challenges and you really do need to be super organised!
It is my own mother who herself was a career woman that inspires me immensely, she is an incredible support to me and my own family, she minds my boys while I work, she is a shoulder cry on and has also been known to have dinner on the table for me after a long day in the office!! She is incredible and maybe one day ill be half the woman she is.
Don't forget voting continues in the Boots Maternity & Infant Awards, The Mamma Fairy Blog is nominated for Best Parenting Blog in the 'For the Family' sections.
Hope you enjoy reading and look forward to hearing your comments
Take care
~Mamma F