Every parent dreams of raising healthy, happy kids. Sometimes, it's impossible to prevent illness, but there are steps you can take to promote good health and wellbeing. Here are some essential tips for parents to take on board. 
Health checks and immunisations
Children have underdeveloped immune systems. This is why immunisations and regular health checks  are so important. Take care to keep up to date with appointments. Keep a calendar or diary to hand so that you can jot down dates and times. If you're unsure about immunisations, don't hesitate to ask your doctor or practice nurse for more information. It's understandable to have questions, especially if you're a first-time parent. 
Healthy eating
We all know that getting kids to eat healthy food can be a struggle.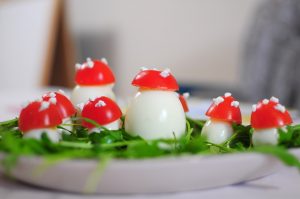 But persist, and don't give up. It's really important to provide your children with nutritious food to boost their immunity. Try and introduce them to fruit and vegetables from an early age. Be creative and try and make meals look visually appealing. Check out sites like Pinterest for ideas. You can create stick men made from celery, raisins and carrots, for example. It's also a good idea to hide vegetables in soups, pasta sauces and casseroles.
Exercise
Many kids love to run around and burn off steam. But we live in an age when children live a more sedentary lifestyle than ever before. Try and combine indoor activities with playing in the garden or going for walks. Kids can also learn a lot from joining local teams or getting involved with activities such as gymnastics or swimming classes. If your children would rather watch TV or play computer games, limit the time they spend in front of a screen. Make exercise fun by trying new games, getting friends and family involved and enjoying a change of scenery.
Use your intuition
As a parent, you'll often know there's something not quite right long before test results come through. If you feel like there's something wrong, trust your intuition. All kids get coughs and colds. But if you think your child may have a more serious illness, seek advice. Your family doctor may be your first of call for minor illnesses. But if you suspect there is a serious problem, don't hesitate to call for urgent help. If there is a problem, early intervention is often the best course of action, according to experts. Dr Jill Orford is a paediatric surgeon who provides treatment for babies, toddlers, and older children. Your child may be referred to a specialist if they require further tests or treatment. If you have any questions at all, your child's specialist surgeon will be happy to help.
No parent wants to think about their child suffering from illness. But, sadly, this is part and parcel of parenting. Take these tips on board to try and boost your children's health and wellbeing and reduce the risk of illness and infections. It's normal for children to be poorly now and again, but if you're worried, don't be afraid to seek urgent help. You know your children best, and sometimes, your intuition can be incredibly valuable.