The Mamma Fairy monthly favourites for December was an easy one to write. December in the Mamma Fairy house was a month of highs and lows however there were 3 products that were in almost daily use.
1 Cocoa Brown Gradual tan
I am naturally quite pale and deep tan doesn't work too well on me however I do like a nice natural healthy look glow and find the Cocoa Brown gradual tan very good for achieving this. It's also really pleasant smelling. It's tinted too when you apply so you can easily see how you are applying it. I find after about 3 days I have a nice glow and I maintain it after my shower each time. It fades quite evenly too which is a big plus as there is nothing worse that patchy faded tan.
I bought mine in my local Tesco however it is readily available in pharmacies.
2 Vivisical Gorgeous Growth Shampoo and Conditioner
I have quite long dark hair and prior to my little men arriving it was glossy and healthy looking. Two kids and little time later it was dry, brittle and not healthy looking at all. I have spent nearly 3 years of buying various different shampoos and conditioners and salon treatments to varying degrees of success. I attended the BloggerConf and in my goody bag was a the Viviscal Shampoo and conditioner. This is new to the market and we got an early sample to try out. I am not over reacting in the slightest when is say this is amazing stuff. After just one use, the difference was noticeable. As you can see from the pic above the tubes are well used, I use both every time I was my hair.
What I have noticed also is that it makes straightening or curling so much easier and leaves the most amazing glossy shine. I knew it made a difference when the Dada Fairy asked me what did I do to my hair that it looked great!
I will keep you updated on the blog when I hear the date its on general sale but seriously you HAVE to try this for shiny glossy hair. See http://www.viviscal.ie/ for more information.
3 Jo Malone shower gel
I wore Jo Malone Wild Bluebell perfume on my wedding day and since then anytime I get the scent it reminds me so much of happy memories of that day. My perfume ran out early in the month and the Dadda Fairy gave me my Christmas present early, included with the perfume was the shower gel. I love love love this fragrance and adding the shower gel certain prolongs the lasting power of the scent.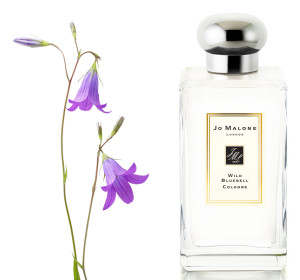 I like perfumes that aren't too overbearing, this Jo Malone scent fits the bill every time. I know the Dada Fairy purchased mine in Brown Thomas.